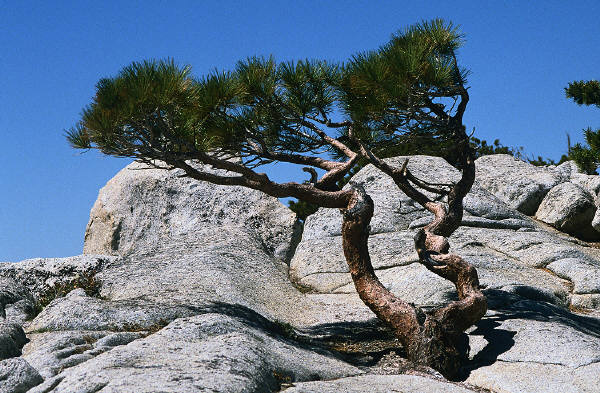 "Prepare the way of the Lord. Make His paths straight" (Matt 3:3).
My dear friends, are we making His path straight? The previous Gethsemane writings were:
Let us revisit these please ...
In Issue #1: Slenderizing … the Father spoke to us about diminishing the flesh and increasing Himself in us. Just a few weeks ago, a dear friend shared something so very special … likening the dealing of the Lord in us to that of a gold refiner's job. The refiner does not stop polishing the gold until he sees himself in it – is the Lord seeing Himself in us yet? As the Lord refines us, is He seeing His love, care, compassion, life, healing and well-being in us? He made us in His image and likeness – do we bear this resemblance? Have we taken on His identity?
This Gethsemane article was written in 2000. Now in this year of 2003, the Father is showing us that we must not only make the path straight but that we are indeed walking on a very thin line. I envisioned the slender rope walked on by the acrobats …this is precisely where we are now if we have any hope of saving creation or ourselves. My dears, we will not be forced to walk this thin line since He still is not a God who pressures us in any way. But the reality is that we can only enjoy His full calling and inheritance by 'letting it be done on earth as it is in heaven' (Our Father Prayer). From as a child, I uttered this prayer so many times yet each day it takes on an even greater meaning as I visit yet another mansion (experience) in my Father's House.
For earth or this entire body to be heaven – all must be consumed in Him where earth takes on His full features. We are made in the image of God – when we look into the mirror – whom do we see? Do we see His righteousness, His peace, His compassion …HIM ... ? If not, then the refining must go on. During the process, we will be doing things that are simply not 'normal' or do not seem like us – this is good – we are changing nature and taking on His. The entire metamorphosis begins to feel less foreign as our very mind lines up with His - fusing the earthly with the heavenly to the point where one cannot be distinguished from the other. Oh alleluia.
It dawned on me just last week that all the stress, illnesses and pain are coming from the polarity that exists between earth and heaven. We are acting 'out of ' our nature 'heaven' and in so doing, the conflict continues within us, the battle continues to rage. Friends, let us release all flesh into Him, let us return to our original nature – the state for which we were designed – 'in the image of God'. Let go and just BE as He IS. Make straight the path of the Lord – clear, distinct, irrefutable evidence that He IS…so that all creation might see and give glory to our Father in Heaven.
In Issue #2: A Perfect Union – the Father spoke to us about the marriage, the union, the offspring. As we merge fully with the Father and become one, we will enjoy the fruits. Have we merged? Are we seeing the fruits of this consummation? Are we still feeling separate from God? Are we still putting aside an hour per day to pray or are we naturally in prayer all day? When we go to sleep at nights, do we feel that while our bodies are resting, our spirits continue in communion with the Father? Are we diligently praying to do the right thing, make the right decision, fighting to refrain from killing our brother or are we enjoying just Being all that He is with little or no effort? Can we honestly declare that "It is finished", that the battle and raging conflict within is over?
As Jesus yielded up Himself and completely became one with the finished work of His faith, He relaxed and breathed, "It is finished" on the cross – His purpose on earth was fulfilled – He had walked every step desired by His father – it was over. Let's ponder on this a while – we think of Jesus as supernatural but it was designed that He should walk this earth as full man with all the normal thinking and feelings of the human yet the desire to rise above it all for His Father. We clearly see this when He wished that 'the hour would pass' (Mark 14:35 - And he went forward a little, and fell on the ground, and prayed that, if it were possible, the hour might pass from him).
Oh, how excruciating it must have been for Him to wish that this was just a dream. How many times we feel this when sorrow is upon us – when we are by the sick bed of a child, a parent, a friend. When we are starving or hurting because of deceit from those we love so dearly. We see this when He wept, when He was angry and when He was tempted. Do you weep today? Do you feel anger? Are you tempted? Yes, we are human but what do we do with these feelings? Are we aligning each reaction to His will and nature so that we too can say, 'It is finished' and in full accordance with God? Dear friends, He came in full human form ... human form ... just like you and me.
Just as God had a purpose for His Son, He also has for us – His precious Sons – for YOU! The YOU who was worth the pain His loving Son suffered. YOU, the one who is worth the price of each nail being driven into the Hand of God's very chosen one. What are we doing with this privilege? How are we making this pain and suffering He bore worthwhile? Oh dears, make straight the way. Watch and pray that ye enter not into temptation: the spirit indeed is willing, but the flesh is weak (Matthew 26:41).
In Issue #3: His Royal Cabinet and Issue #4: Ambassador Duties, we see where the Father is establishing His elect today. My friends, we are not going to get into the act through any backdoor. We are going to have to show the right credentials and be able to perform as neatly laid out in the Ambassador Duties list (article #4).
In natural offices, whether it be those designed by the presidency or any organization, the most successful candidate is the one who has the right credentials and who can best perform the duties. Now what is the difference between the natural and spiritual office? In the natural, we overlook the job requirements and specifications, and hire by favoritism, nepotism and so forth. No, my friends, in this great spiritual calling and title, none of this exists. There is perfect equity in the hiring process. Guess what? The vacancies are endless for every corner of the earth, every profession, every path will be filled with His people – and they shall reign! Oh alleluia!
Whatever job you are in now, whatever you may be going through, remember that He did not intend for you to be enslaved but to rule and reign. Why then are you accepting less? Seek Him daily, hear Him, know what He is instructing you to do. No, it is not easy. I know this. Just BE and quietly continue to seek Him when you are not sure which direction to take. Let Him know that you are ready and willing to take the test of faith, that you desire nothing and no one but Him and all He has for you. Let us hold fast to the calling…'Let us press toward the mark for the prize of the high calling of God in Christ Jesus' (Phil 3:14). Let us encourage each other along the way. Let us avoid the detours as we listen keenly. Are we ready for this? Have we made the way so straight that we can proudly present our credentials and enjoy this awesome opportunity – to serve in His Royal Cabinet?
In Issue #5: I Was Dehydrated, He gave us all we would need to be able to make this path straight. He thirsted on that cross so that we might be filled with all that we need. The result of the cross was, 'Lo, I am with you always, even unto the end of the world' (Matthew 28:20). How then can we possibly fail if He is with us always? Because, simply put – we have lost sight of who we are and who He is within us. Oh my, we can go all the way back to Genesis and trace the power of God and all He bestowed on and in His Son – is this the power that is working within us today? We easily see that God and Jesus have this power but our sight ends right there. No beloved, this power is in us for greater things we are to do than we have seen even in the Son.
Mankind is and will do even more than what our brother, Jesus accomplished here on earth. Yes? We clearly see this as God's intention in John 5:19-20, 'Then answered Jesus and said unto them, Verily, verily, I say unto you, The Son can do nothing of himself, but what he seeth the Father do: for what things soever he doeth, these also doeth the Son likewise. For the Father loveth the Son, and sheweth him all things that himself doeth: and he will shew him greater works than these, that ye may marvel.' Yes friends, there is even greater to come – can we even withstand the awesomeness of this? And more so, it is and will come through you and me! Let us be grounded – let us be stubborn in doing His will – let us plant our feet solidly and be determined to keep His way straight and clear. Let's do it for Him. And as we pave the way, creation will cry, 'Holy is the Lord'.
In Issue #6: Bought at a Price , we are given all the confidence we need in order to enjoy the greatest self-esteem. How many times we start a job and most of the groundwork is in gaining the confidence of our superiors, hoping to feel worthy and priced? Well, in this high calling, He already showed us what He thinks of us by letting His most Beloved Son carry our weight of sin. He proved His love and faith in us when He paid that grave price at Calvary. So dear ones, what more do we need to keep His path straight? God bless us all.